Flat Tops Wilderness Guides is excited to announce that it is under new ownership! Ken and Lisa Stann purchased the outfit from Cliff Gray in August 2021 and officially took over January 1, 2022. The Stanns want to thank Cliff and the staff for the past 8 years of hardwork and dedication! Looking at pictures from years past, the improvements to the business and property make it almost unrecognizable! Cliff did an amazing job and created memories that will last a lifetime for thousands of clients.
Continuing the path that Cliff had started, Ken, Lisa and the staff, are striving to improve the experience for their clients on all fronts. While the ranch sold itself for the Stanns it was the team that Cliff had assembled that led them into the outfitting business.Everyone was top notch and they have attempted to keep as many of the staff as possible. Jimmy Oswald was the operations manager under Cliff for several years and will continue to manage Flat Tops Wilderness Guides. They brought Evan Koster in on a full-time basis as head guide. Another familiar face is Mark Hershberger who will be teaching new staff while maintaining the all-important consistency of expert packing and horsemanship.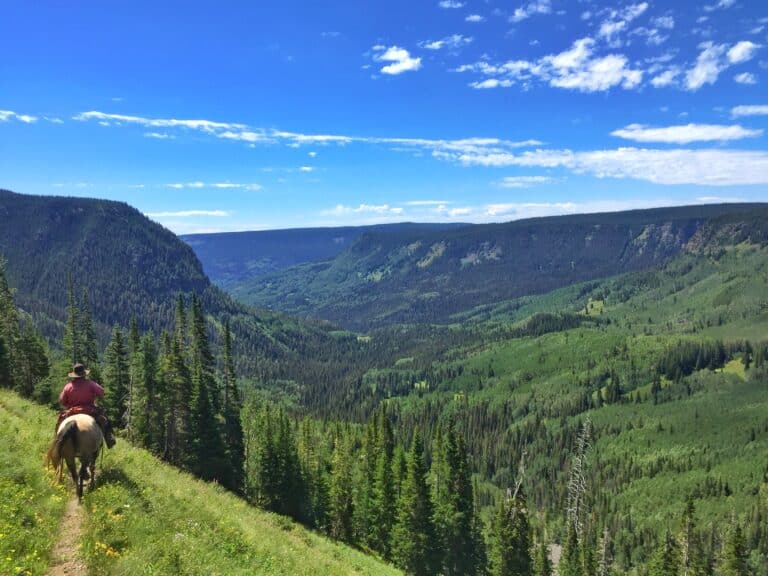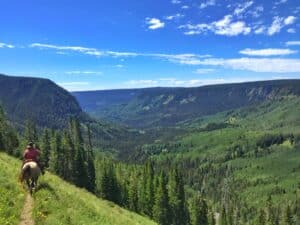 Mark leading a summer trip back to the lodge
As Flat Tops Wilderness Guides looks toward the future it has these main goals; continue to give best in class service, grow where there are benefits to our clients and team, experiment with new processes and procedures, and to work towards providing an epic outdoor experience whenever possible.
Guided Camp: Historically Flat Tops Wilderness Guides, previously known as Colorado High Guides and Hilltop High Guides, guided hunters from one of its permitted wilderness camps. When Cliff took over the permit and rebranded as Flat Tops Wilderness Guides, he also purchased the lodge on the property. He slowly transitioned from running a wilderness guided camp to lodge based guided hunts. Both style hunts have pros and cons. However, after much hunter input, we are going to offer BOTH lodge guided hunts and wilderness guided hunts. Jimmy and Evan have also decided to move the location of the guided camp with the goal of increasing success on elk hunts. Though this move of the camp is logistically difficult both Jimmy and Evan feel it will be more than worth the additional effort on their part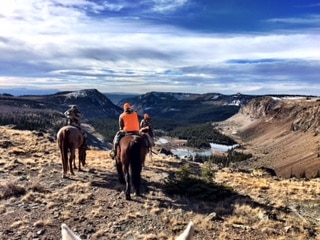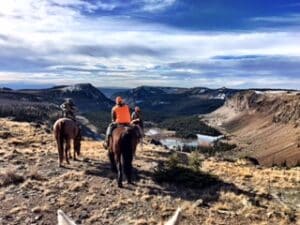 Jimmy and Evan guiding hunters in one of their favorite spots
Drop Camps: It is Ken's goal to provide best in class service for all clients, both guided and unguided. Though there may not be a staff member in drop camps to help the hunters, Jimmy is dedicated to helping hunters before the hunt as much as possible. If drop camp hunters want to have a zoom call with all their hunting partners, he highly encourages it. He will also voluntarily give any and every coordinate in his OnX Maps. Since Flat Tops Wilderness Guides can't control elk behavior, or the hunting strategy of drop camp hunters, it is difficult to increase the success rate of DIY hunters. However, many aspects of drop camp success are not measured in punched tags. With that in mind, FTWG is dedicated to controlling and enhancing every aspect of camp life in a drop camp. The quality of equipment, set-up, presentation, and service is where FTWG will continue to strive for perfection.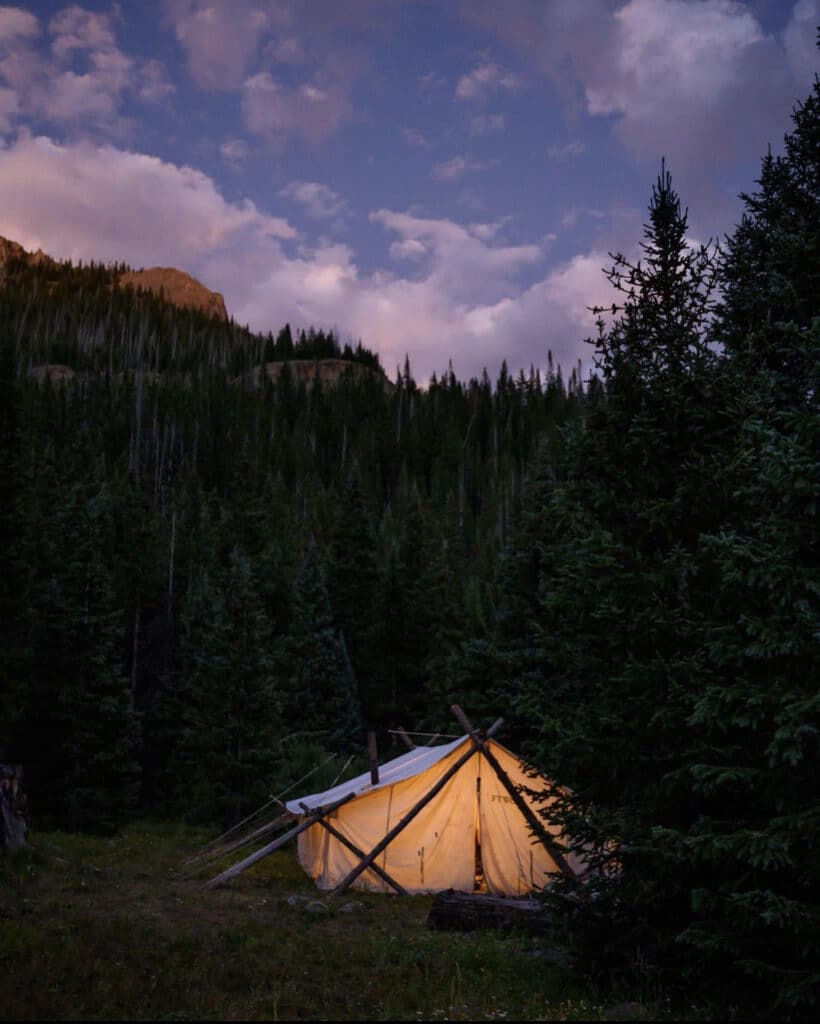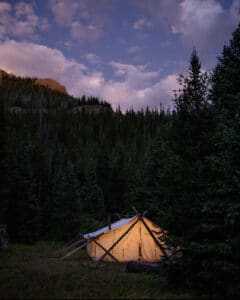 One of our 17 different drop camp locations.
Lodge: Cliff was the first owner of the permit area to own the log home that is on the ranch along with the barn and bunkhouse. He started using the home as a lodge for hunters, fisherman, and vacationers. The lodge was originally designed to be a home and will continue as such.  However, the Stanns love the idea of opening the home up, where possible, in the pursuit of the goal to make epic outdoor adventures come true.  Both Ken and Lisa look forward to renovating the lodge and sharing those renovations in the near future.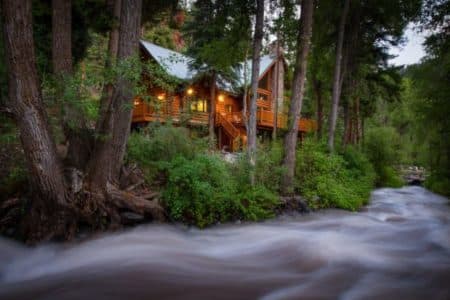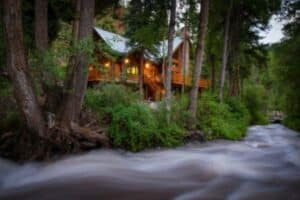 The exterior of Turret's End Stann Ranch with Turret Creek flowing right outside the front door
Summer Adventures: During the summer taking fishermen to remote lakes, ponds, and creeks will continue to be part of the services provided. Taking day horseback trips will also still be a large portion of the summer business. Both fishing and riding day-trips will have a lunch included. For anglers with available time, Flat tops Wilderness Guides will offer multi-day lodge trips and for the more adventurous angler there is the 5-day wilderness fishing trip into some of the most remote parts of Colorado.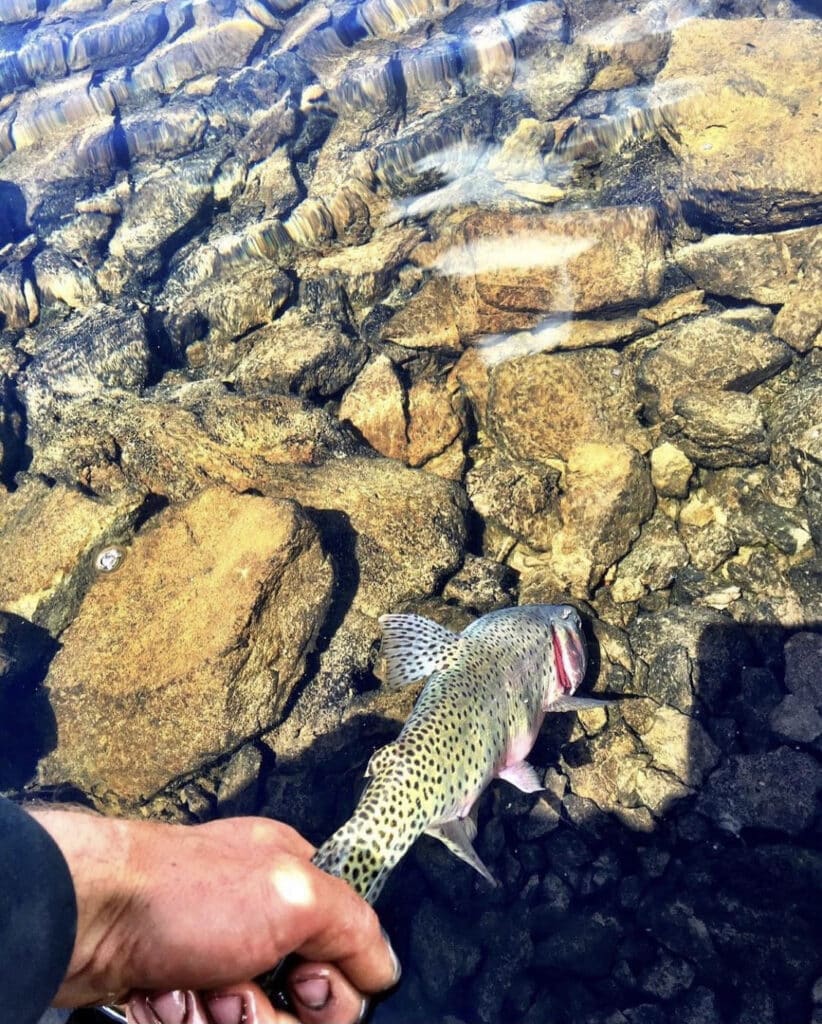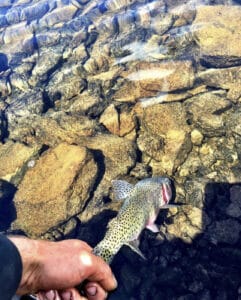 Releasing a wild cutthroat from one of the many high country lakes
Stock: As with any living animal, aging is something that is the only guarantee in life. Ken and Lisa listened to the input from the staff and agreed to slowly start retiring many of the horses and mules and replace them with younger ones. With the helpful input from Evan and Mark, Flat Tops Wilderness Guides is happy to introduce many to furry employees. Mark, Evan, Jimmy, and many other staff members kept an eye out for horses and mules and personally went out and rode them to make sure they are suitable outfitting animals to pack valuables and to carry the most precious cargo, our guests.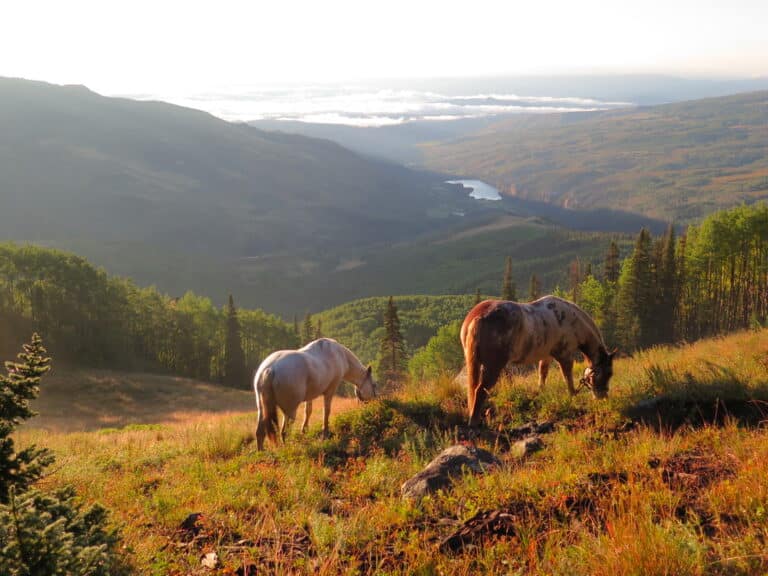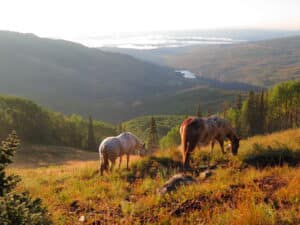 Two of FTWG's riding horses grazing the day before the archery opener
Growth: Maintaining status quo and not growing is a death sentence in most businesses and outfitting is no exception! Ken, Lisa, Jimmy, and Evan are currently reviewing multiple opportunities for growth.  We hope to make an announcement shortly as the opportunity for growth becomes reality outside of the Flat Tops Wilderness Guides traditional business area.
Contact Information:  If you have any questions regarding pricing, scheduling, or need further details about anything discussed above please contact the ranch at 970-343-4460 or reach Jimmy Oswald via email at j.oswald@ftguides.com.