Here it is, our Colorado mountain goat unit thoughts! If you are looking for bighorn sheep unit info checkout our 2021 bighorn sheep guide, because this article is all about the beast the color of winter.
As a primer for all sheep/goat hunters on how the probabilities of the Colorado draw work for these species, I recommend you read our Understanding The Colorado Sheep, Goat and Moose Draw article. There are many misperceptions when it comes to understanding Colorado's draw odds for goats and sheep.
All the goat units that I'm familiar with and have guided in over the past couple years are summarized below. If your favorite spot isn't discussed, it's because all the goats their died in an avalanche… haha.. gotcha… actually it's because I don't have any valuable insight for that particular area. You can apply online starting in March on the CPW's website. If you are interested in booking a mountain goat hunt with us, visit our sheep/goat hunt page.
G2
Historically, my favorite unit to guide in. Lots of variety in terms of access. West of Buena Vista, this unit is south of the Collegiate Peaks Wilderness. The hunting here is usually long glassing sessions from 4×4 accessible points followed by long stalks of varying difficulty. The area is high elevation and goats of any size are usually found in the basins you have to work to get into. Not a high density of goats, but some good ones off the beaten path. The area is full of stunning terrain.
Type – High altitude, rolling alpine with some rougher rim rock country at lower elevations.
Quality – 8" to 9" Billies
Success Rate – Great area to hunt goats. Not known for older age class billies. Hunt can be highly physical or moderate. It all depends where the goats are. My personal guiding here has been 100% harvest.
Draw – In 2018, the tag became harder to draw because tags were reduced from 6 to 4. Now we are back at 5. Based on 2020 applications, this unit is a bit overvalued in the draw. The hunting experience here is great, but you pay for that in the draw vs units like G12, G6 and G3 which are typically 2-4x times easier to draw. There are some good honey holes in this unit that will hold nice goats.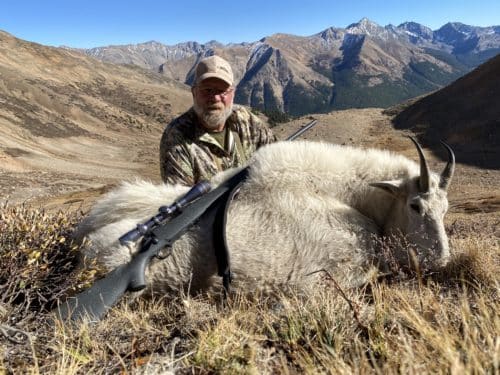 G3 (As of 2020, now includes the area historically G13)
Just North of G2, this new and improved G3 has a mix of wilderness and road access. The better access is on the historical G13 side and so are the majority of the goats. I'd speculate that most of the goats harvested going forward will be harvested within the old G13 boundaries. This hunt is now on par with G2, but the tag numbers can create some competition.
You need to scout this unit or you can waste a lot of time in old pockets that no longer hold billies.
Season is split. The terrain here is a little more forgiving than G6 or G12, so I worry less about snow hindering a later season hunt. Great hides the first week of the 2nd hunt.
Location – North of G2, South of Independence Pass
Type – High altitude, rolling alpine with some rougher rim rock country at lower elevations.
Quality – 8" to 9.5" Billies
Success Rate – Varies a lot on hunter's mental and physical toughness. My personal guiding here has been 100% harvest.
Draw – Based on 2020, the unit drew about 50% easier than G2. This puts G3 at a decent value in the draw. The unit is harder to hunt than G2, but for hard working hunters the opportunity rate is going to be similar. It has lower goat density than G12, but a much better hunting experience. G12 is substantially easier to draw.
\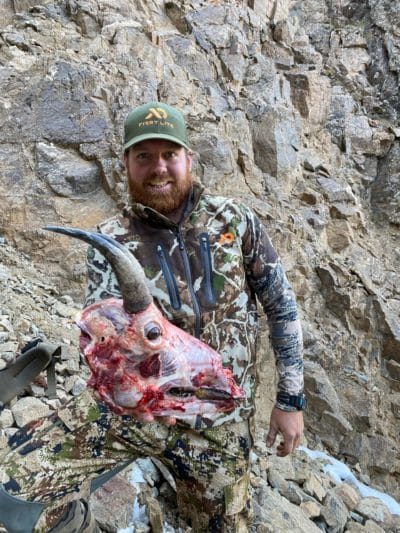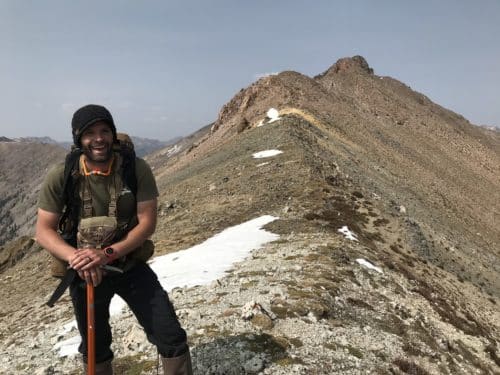 G6
This unit has a big bump up in tags from previous years. The unit is now at 15 tags, almost triple what it had 3-4 years ago. Given the potential for great draw odds, this is my top pick for our clients in 2021. The Gore Range is serious business and this is a challenging unit. There are nice goats in the unit, but most of them are only accessible via a backpack style hunt. The use of horses is limited due to the terrain. We have found goats in several pockets that don't have any history of goat harvests.
Location – Gore Range, North Side of Hwy 70
Type – Wilderness Hunt (Eagle Nest Wilderness), rough country
Quality – 8" and 9" Billies
Success Rate – Wilderness sharply gives the benefit to those with scouting time and those that know the country. Do not apply for this tag is you are not going to be decent shape and ready for a backpack style hunt. We can help greatly, but it is close to impossible to harvest a nice billy here if you aren't open to sleeping up high. Our guided success rate here is 100% on trophy billies.
Draw – For the average hunter this hunt has been marginally overvalued in the draw but with the new tags I'm expecting it to be a good draw this year.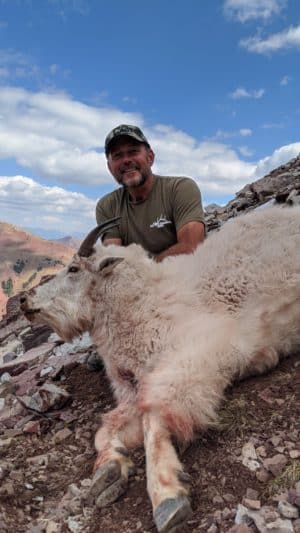 G12
This unit has gone through the biggest changes of any of the units over the past five years. The CPW has taken the tact to drastically reduce the goat population. So far, there has been a steady decline in population (despite what CPW counts claim) and a drastic increase in the difficulty of the hunt. Goats are getting pushed further into the gnarliest of terrain in the Bells, which might be the most rugged in the Western States. There are a few things you should know before applying here: 1) The non-hunting activity is intense. This can lead to many awkward discussions on the trail and, I personally feel, it takes away from the experience of the hunt. 2) The terrain here is rugged. Just because you can glass-up goats from a parking lot, does not mean you are going to be able to ethically harvest them. 3) The hunting pressure is nuts. The nature of goat hunting can really concentrate hunters. When you are talking close to 30 tags in the unit at a time, hunting can become a competitive sport.
The best experience and chance at a big billy, in 2021 and beyond, is going to involve a backpack-style hunt. I have guided many hunts here with 100% success on mature billies.
Location – Maroon Bells Wilderness and Surrounding Area
Type – Historical harvest is concentrated but goats are spread throughout the area and available outside of the heavily trafficked areas. Since 2016, tag numbers have been drastically increased. This has created difficult hunts for later dates. Goats are not too savvy, but they do move to rough country after sustained pressure. This country can kill you and has killed hunters in recent history. A physical hunt. Getting the good billies takes scouting and game planning.
Quality – Lots of opportunity for hunters ready for the terrain, hold out for an 8"+ Billy.
Success Rate – If you can get up in the rugged terrain, you can kill a mid-size goat. Scout and hunt hard to find the best goat.
Draw – For hunters just wanting to check-off a goat hunt and are in decent shape, this hunt is one of your best draws. It's twice as easy to draw as any of the other units I've discussed. For hunters wanting the pristine, no-one-in-sight goat hunt they have been dreaming about since they were 12 years-old, this hunt is only an OK draw. Because of intense hunting pressure, billies are much easier to harvest during the first season but do not have near the hide they will in the second season. Once I factor in the potential for snow on the rugged goat habitat during 2nd season, I lean a bit towards the first season. Lots of terrain here is un-doable once it has a slick of snow on it.