2019 Booking
Please contact us at booking@ftguides.com if you are interested in booking a trip for 2019. We are way ahead on bookings going into the Holidays and want to make sure that our repeat clients get on the schedule.
We also have a new 2019 bear opportunity to consider:
Fall Spot and Stalk Bear Hunts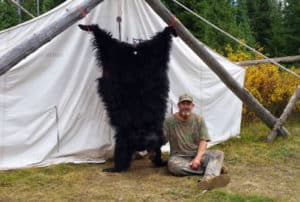 We are offering 3-day guided bear hunts throughout the month of September here in Colorado. These reasonably priced hunts will be high success trips for hunters of all experience and fitness levels. Some of these hunts will be operated from our lodge while others will be out of remote camps, based on hunters' preferences and the acorn/berry conditions. Guided hunts run $1,750 to $2,250 per hunter. We had several days this year where we glassed up over a dozen different bears.
More Details: Fall Bear Hunts
2018 Season Report
September – Archery Deer/Elk, Bears, Mountain Goats and Bighorns
Across the board, the best way to describe this past September is "just plain weird". Following almost zero snow pack from the previous winter and minimal spring rain, range conditions were poor. Our local bighorn herd was highly dispersed. Our elk were hard to find and concentrated in lower elevations. Deer were nowhere to be found. Goats were in their typical spots, observing all these irregularities from their rocky perches.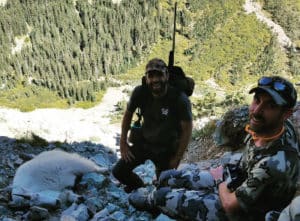 All of our guided mountain goat hunts were successful. However, hunters looking at future goat hunting draws should consider the changing population dynamic in a couple of the units, particularly G12. Three years ago, G12 was a high density goat unit where you could choose the right terrain to kill a goat in. Today, the unit has a much lower density of goats that are concentrated in some of the most physically demanding terrain in Colorado.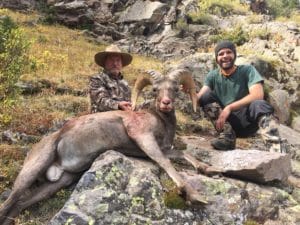 I guided one of the lucky S59 bighorn hunters the first week of sheep season. Joe and I had a blast on the hunt, but it occurred after some tough scouting. In late July and August the sheep dispersed to areas I had never seen them in before. These moves were related to dry conditions in the high country and several bands of rams moving in and out of surrounding units where they were also experiencing poor forage conditions. We ended up harvesting this ram in the traditional sheep range, but we also located some great rams that just need a few years of age. From what I saw this year in the unit, the next 3-5 years should produce some nice sheep in S59.
Archery elk hunting was the toughest I had seen it in years. The vast majority of our hunters got into elk, but the rut was slow throughout the season and success was low. Towards the end of the season, many hunters started focusing on lower elevations and were able to work bulls almost daily.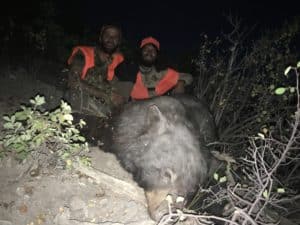 Bear hunting was nothing short of phenomenal. A robust bear population and bountiful acorn crop made 3-12 bear days the norm. Assuming you weren't trying to harvest one with your bare hands, success was imminent.
Wilderness Rifle Hunts – Elk and Mule Deer
In late September and early October, we received 18″ of snow above treeline down to 10.5k. This dump and the feed conditions across the range kicked off great elk hunting during 1st rifle season that continued through the 4th season.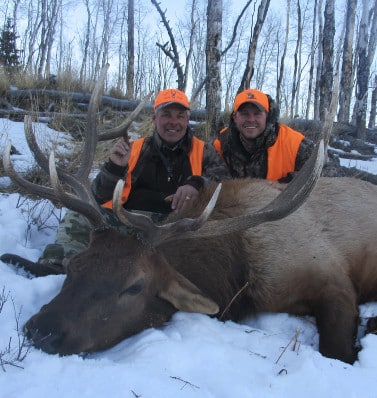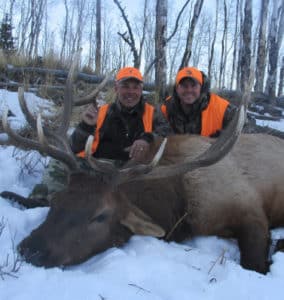 Both 2016 and 2017 brought tough elk hunting conditions. The silver lining of those low harvest seasons was an abundance of trophy caliber elk this year. A large proportion of our elk harvest was made up of large 5×5, 6x6s, and several 300″+ bulls. In terms of wilderness bulls, several of these bulls were once-in-a-lifetime elk.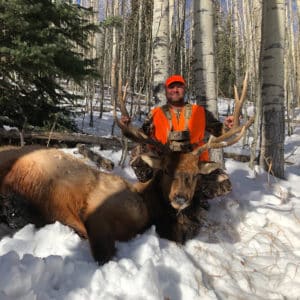 Deer hunting was consistent, but quality was slightly lower than previous years. Antler growth was down with the dryer conditions, but the overall deer density was also lower. This change in density was likely related to an early migration. Hunting the lower pinyon/juniper country in 4th season turned up more deer than usual.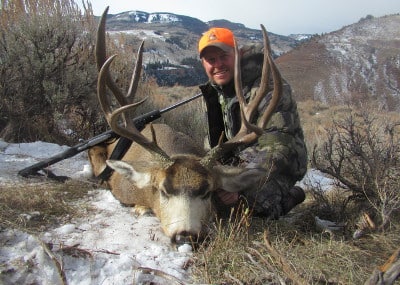 Overall, rifle hunting was good to great. The overall opportunity rate in the guided camps was close to 100% and we had a couple seasons where harvest rates were above 100%, as several hunters harvested multiple species.
Looking forward to 2019!