A quick reminder that the draw deadline for Colorado is less than a month away. If you are already booked and need some help with the application, just give us a ring. For all hunters focused only on bull elk for 2nd and 3rd season, those tags are over-the-counter so you have nothing to worry about. We still suggest you apply for a deer and elk preference point for flexibility in the future years.
Any hunters in our rifle or archery camps interested in deer, must apply for tags. Even for the seasons that run 100% draw probability, you need to put in the app. We suggest that all archery hunters, 1st season rifle and 2nd season rifle consider putting in for a bear tag for the season of you hunt. We had an abundance of bears in the area last year. If anybody is interested in harvesting a bear, it's a good tag to have in camp.
On to the draw specials…
Bear/Archery-Buck Combo Hunt $3,500
New in 2015, as a result of seeing abundant bear populations and four ruined wall tents in 2014, we are offering this combo option at reduced prices! You will not find a comparable hunt for the price that is 1-on-1 guided with multiple species targeted. These hunts will take place at elevations between 8,500-11,500. This is a spot-and-stalk hunt. Depending on preseason scouting, we may hunt from a wilderness camp or from our base camp. You will be hunting deer that rifle hunters are accumulating 5-8 years of preference points to hunt.
We can structure this hunt in several ways. This is a unique opportunity in Colorado. The highest success rate structure is for the hunter to apply for the early rifle bear tag and archery buck tag. You will carry your rifle and wear hunter orange, while your guide carries your bow. Deer will be stalked without orange and your bow only. Bear will be taken with your rifle. Alternatively, you have the option to apply for the archery bear tag if you prefer to 100% archery hunt. Last, you can only rifle bear hunt if you prefer to focus on harvesting a bear. This will be a 1 guide to 1 hunter horseback hunt. 3 meals a day and camp lodging. Pairs that would like to hunt together can opt for 2 hunters per guide.
The dates for this hunt will be September 2nd-6th only. This hunt is limited to 4 hunters total.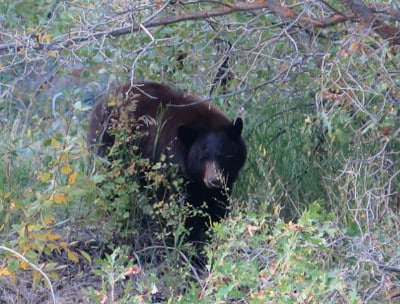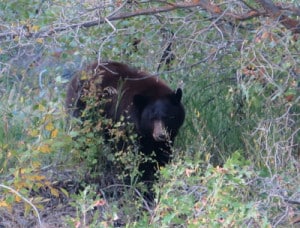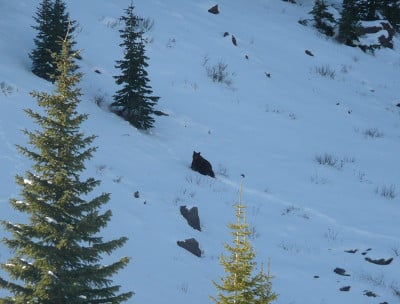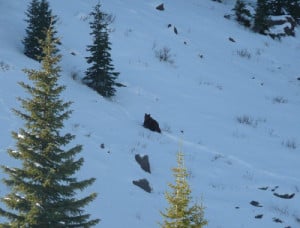 Early Season Rifle High Country Mule Deer $5,200
For the hunters out there who have been saving points, this is a unique hunt for high country mule deer during September. You will be focused on 170″+ deer in one of the most beautiful places on earth. Across the western states there are few opportunities to rifle hunt deer before they migrate out of the highest elevations. We are lucky to have this hunt here in the Flat Tops.
We will be hunting out of our high camps. This is a one-on-one horseback guided hunt with a dedicated cook at camp. 3 meals a day and camp lodging. The price also reflects the fact we will be scouting the high country prior to this trophy hunt.
The dates of the season are Sept. 5th-13th. The hunt will be 5 days.
Non-residents have a chance of drawing this tag if they have 6 or more points. Residents need 4 or more points for a chance. Points vary year-to-year given the low number of tags.
3rd Season Mule Deer/Elk Guided Base Camp Hunts $4,000
We will be guiding two hunters from our base property during 3rd season. You should expect to be riding a minimum of 2-3hrs each day. We will be hunting hard to reach locations that the general public has a hard time getting into and that have little outfitting pressure. You will be staying in clean and comfortable base camp lodging. 3 meals a day are included.
We encourage these hunters to put in for a deer tag. If a deer tag is drawn, that should be the focus of the hunt. The elk hunting is good, but it is fair to have a trophy class expectation on deer for this hunt.
In 2014, residents AND NON-RESIDENTS drew this deer tag with ZERO preference points! The season is Oct. 31st-Nov. 8th.
4th Season Deer/Elk Guided Base Camp Hunts $4,000
We have 4-5 spots for guided elk and deer hunts during 4th season. We operate these hunts from our base camp and lodge. You will be riding horses daily. The above price includes 3 meals a day, 2 hunters per guide, base camp lodging, and riding horses for the entire hunt.
Elk tags vary year-to-year, but there is a 80-100% chance you will draw a bull tag as a resident or non-resident. Buck tags will take residents a minimum of 1 point and non-residents 5-6 points. This is when the largest mulies show up and the rut will be in full swing.
This is a great hunt for hunters who want the comforts of home but still want the opportunity to hunt in the wilderness. We have our 1st-3rd season corporate opportunities booked, but this 4th season would make a great corporate hunt from a well equipped facility. These hunts can be upgraded to our luxury lodge. If you have hunters with deer points or residents in your group, this is an opportunity to pull off an exceptional combo hunt.
Let us know if you need any help on the applications or if you have interest in the above options. Email Web@ftguides.com or call (970) 343-4460. Thanks!