Covid-19 Thoughts and How it Relates to Upcoming Hunts
There are two things I'll be telling my grandkids about decades from now: 1. How the internet didn't exist when I was a kid, and 2. The Covid-19 outbreak of 2020. Fortunately, we're going to get through this. Humankind has already proven it's ability to slow the virus and manage it's wreckage. It's not all roses, and won't be for awhile. However, we'll prevail.
If you want to avoid the media's insatiable appetite for ruining your day, here are some articles I have found to be hopeful, science-based and informative about the epidemic:
Israeli Nobel Laureate: Coronavirus spread is slowing
Dr. Levitt uses a basic mathematical model based on the Princess Cruise ship Covid outbreak. He, out-of-sample, used that model on the China outbreak and was able to predict the peak infection/death numbers with stunning accuracy. As things unfolded, Levitt preemptively predicted the peak China mortality day within five deaths. Many outlets are discussing other complicated mathematical models that have not been tested out-of-sample. If you lived through the sub-prime mortgage crisis, you experienced how totally unreliable such models typically are.
Italy-Corona Virus Slowing
Even Italy, the European epicenter of Covid, is seeing a slow down in new cases.
French study finds anti-malarial and antibiotic combo could reduce COVID-19 duration
Although a tiny sample size, this preliminary study shows a possible treatment option. Combine the study with the anecdotal experiences thus far, and this may be a game changer. Azithromycin (Z-Packs) and Hydroxychloroquine (malaria drug) have been used on humans for years and are readily available.
As Covid-19 Relates to 2020 Hunts
I don't anticipate any issues with our US-based Fall hunts. If there still continues to be concern about the virus by Fall, we will take safety measures above-and-beyond to accommodate hunters. If there are no travel restrictions in place, we will still proceed with our hunts. Hunters who have planned to fly, may want to consider a backup plan of driving if the virus is still active.
Spring bear season in BC is likely to be disrupted. We still won't know the exact outcome for a couple weeks. If you are booked on one of these trips, please feel free to contact me directly with your questions and to get an overview of your options.
Colorado Big Game Draw Deadline is April 7th!
This is a friendly reminder to get your applications in before the draw deadline. For our Fall hunts, the following hunts require an application:
Archery Deer, Muzzleloader Deer or Elk, September Rifle Bear Hunts, 1st Rifle Elk Hunts, 2nd Rifle Deer Tags, 3rd Rifle Deer Tags, 4th Rifle Elk and Deer Tags
For a guide, including application codes, for our deer/elk/bear hunts checkout our 2020 Deer/Elk/Bear Draw Guide.
If you are applying statewide for bighorn sheep, you can checkout my thoughts on 2020 sheep units here.
If you are looking to scramble around the peaks with mountain goats, checkout my 2020 goat unit thoughts here.
If you have any questions while applying, call us directly at 970-343-4460.
I also did a Jay Scott Outdoors Podcast on the 2020 draw. We cover the basics of the draw and ongoing application strategies. Listen here:
Draw Sensitive Hunt Openings
Bear Hunts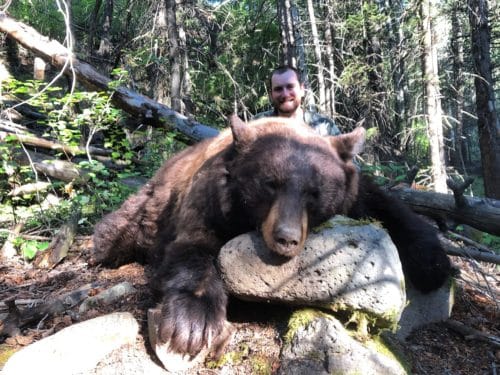 We have several guided bear hunt openings for our Fall lodge hunts. These hunts are high success rate hunts. Our bears are 50-60% color phase. Hunters can use archery equipment or rifles. Accommodations are in our lodge and most hunts will utilize horses and 4×4 transportation. Spot and stalk on berry patches and acorn oakbrush.
Guided 1st Rifle Hunts

We have several open guided lodge hunts during 1st rifle. Elk tags are an easy draw. These hunts are a great hunt for those focused on bull elk. The last few years, we have some rutting activity lingering into first rifle. Details on this hunt are on our guided horseback lodge hunt page.
Guided 2nd Rifle Hunts
We still have several 2nd rifle guided openings for this Fall. The elk tags are OTC, but hunters wanting to do a combo hunt need to put in for the 2nd season buck rifle tag. With the later dates this year, the 2nd season combo hunt should be great for both deer and elk.
Guided 4th Rifle Hunts

For those willing to bare colder temps and snow accumulations, these guided hunts are high success on both deer and elk. Elk tags are 90-100% draw odds for those with 0 points. Deer tags take non-residents 3-5 points to draw. For details on these hunts, checkout our guided horseback hunts page.
Give us a call at 970-343-4460 or email booking@ftguides.com, if you want to book or have questions about the draw.